Made for More
Introducing the 2021 M-Series
More adventure
The new Permobil battery and VoltPro charger work together to provide you with up to 25% greater driving distance, reduced charging times and longer battery life. Use the MyPermobil App to get even more from every adventure with seat activity tracking, battery range estimates and an integrated map to help plan your journey.
Permobil battery features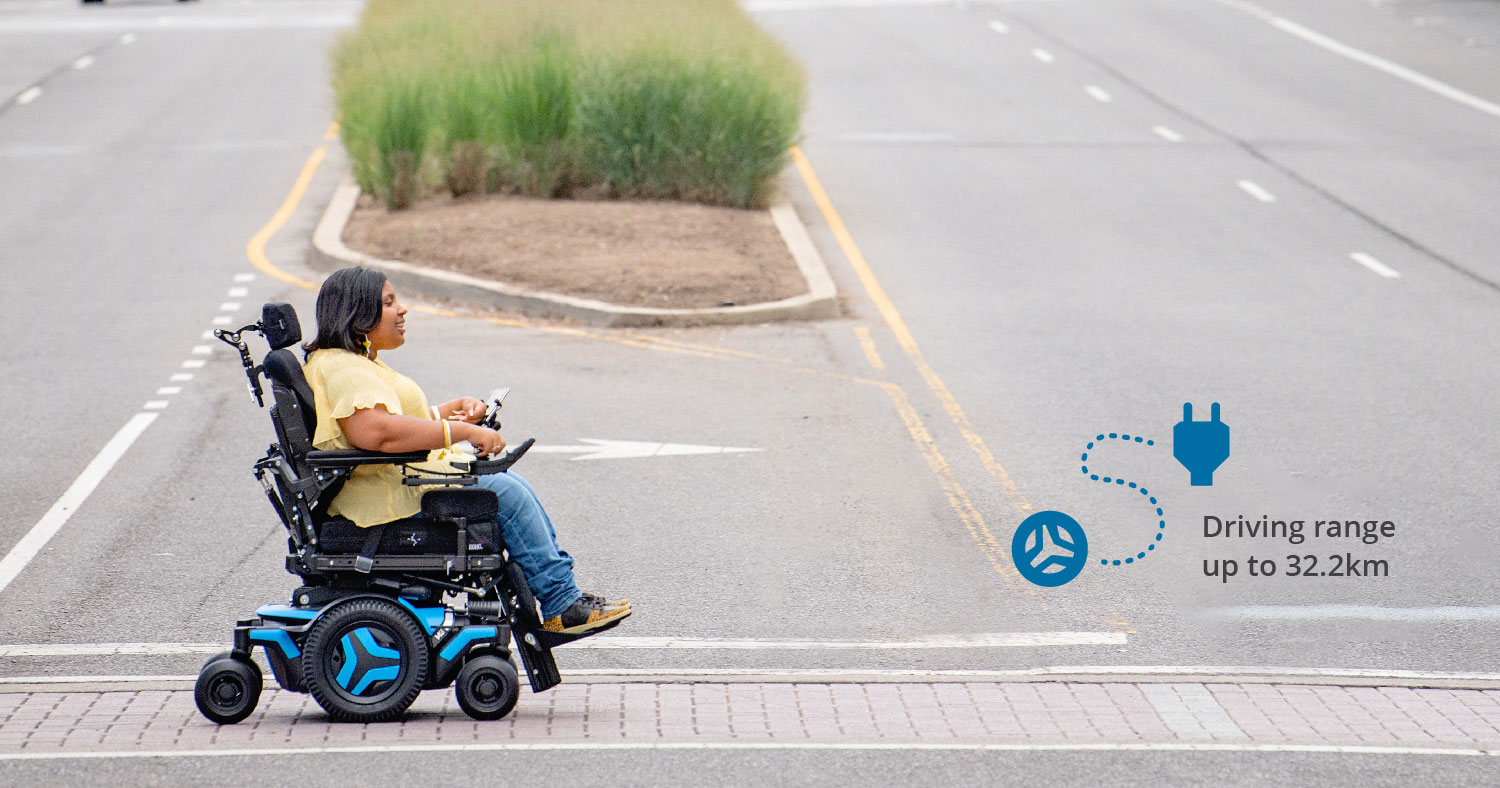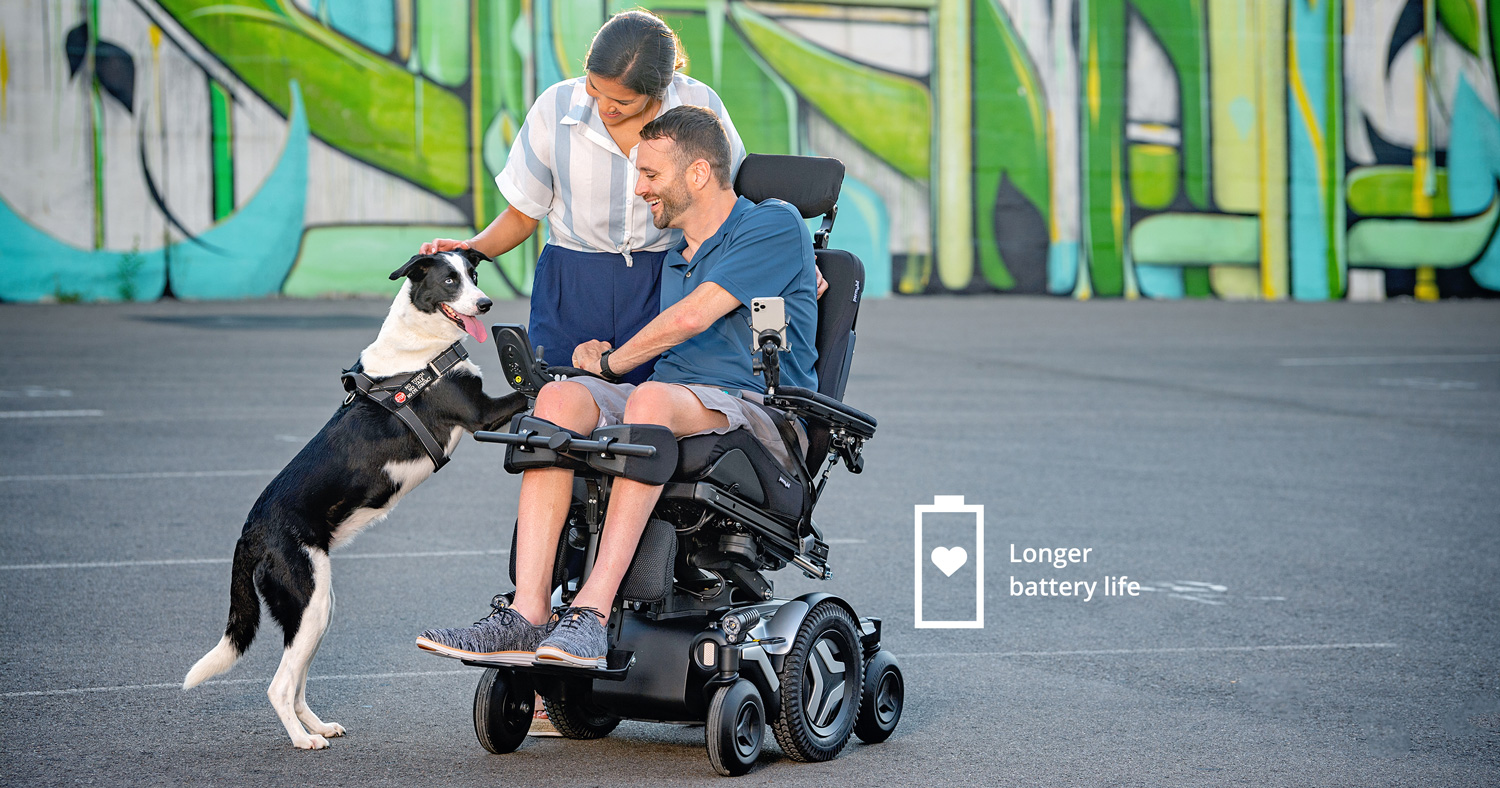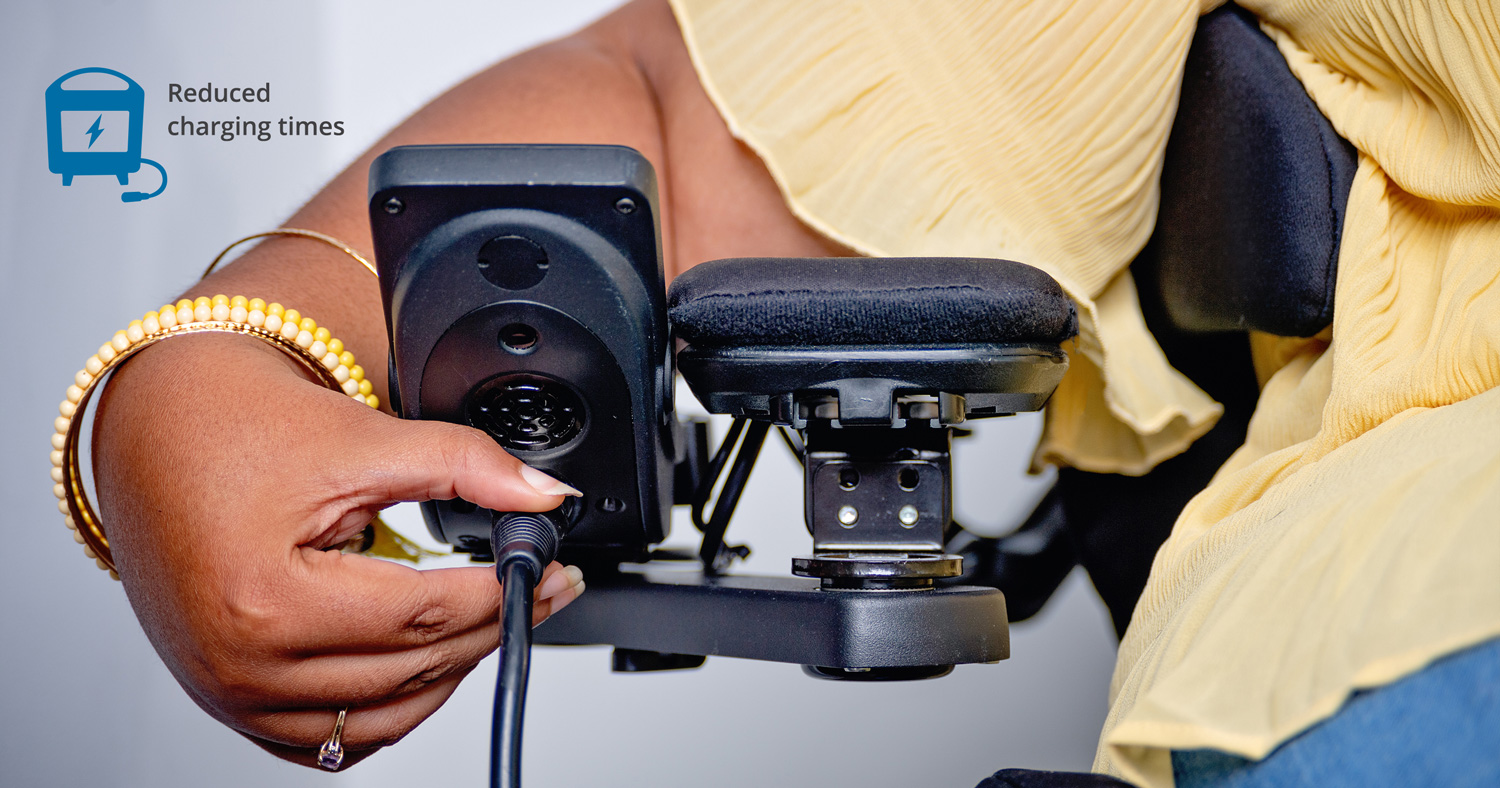 Corpus®, our most capable power wheelchair seating system, now provides you with even more positioning options. Enhanced stability on the new M-Series enables you to optimise your repositioning, functional reach and power drive positions for even greater freedom of movement.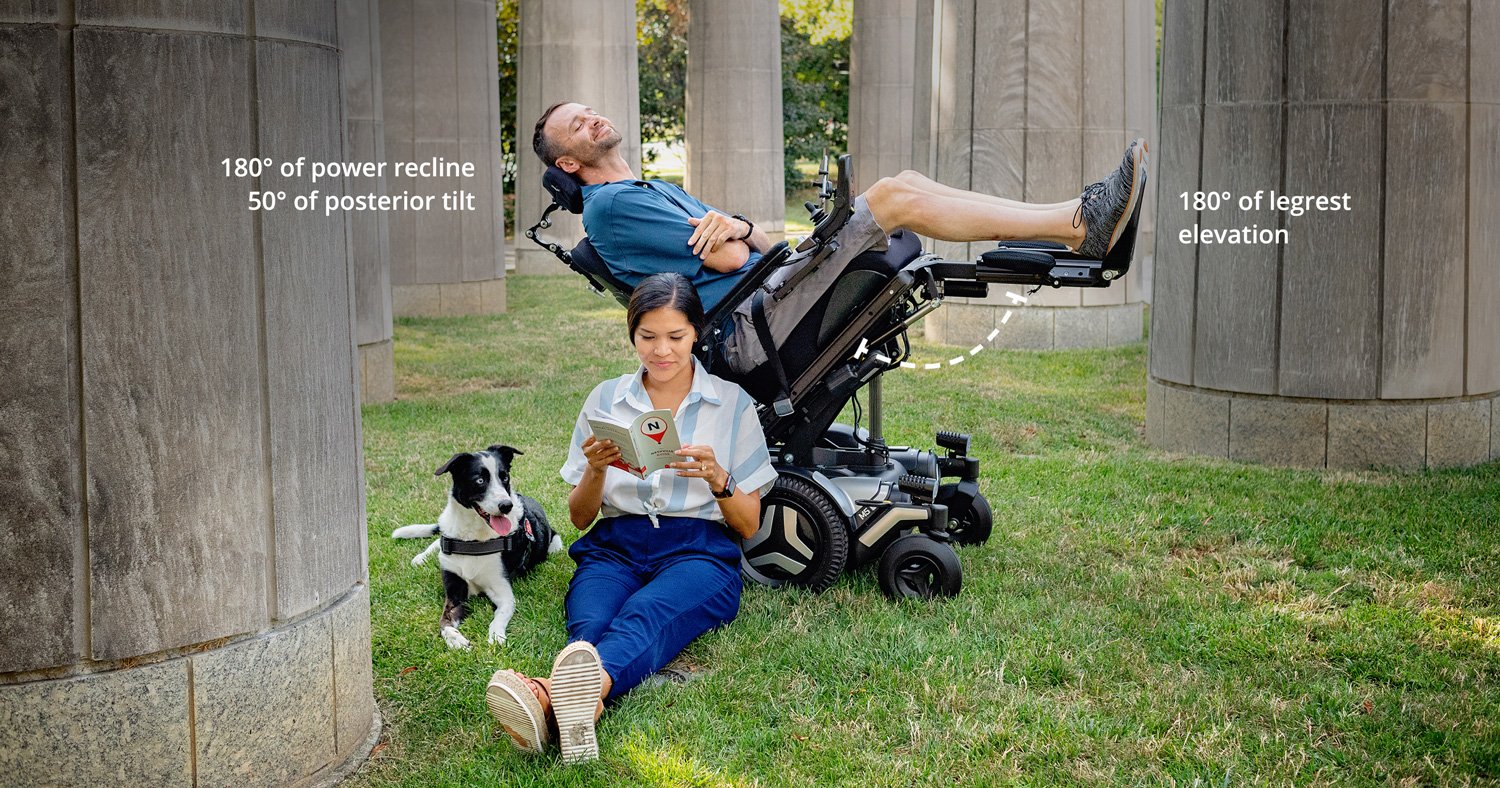 More visibility
Prepare to turn heads in your new M3 or M5 Corpus featuring a fresh new aesthetic and expanded color choices with mix and match options that allow you to show off your personal style. The color infused accent pieces are UV resistant and are less sensitive to scratches and fading over time.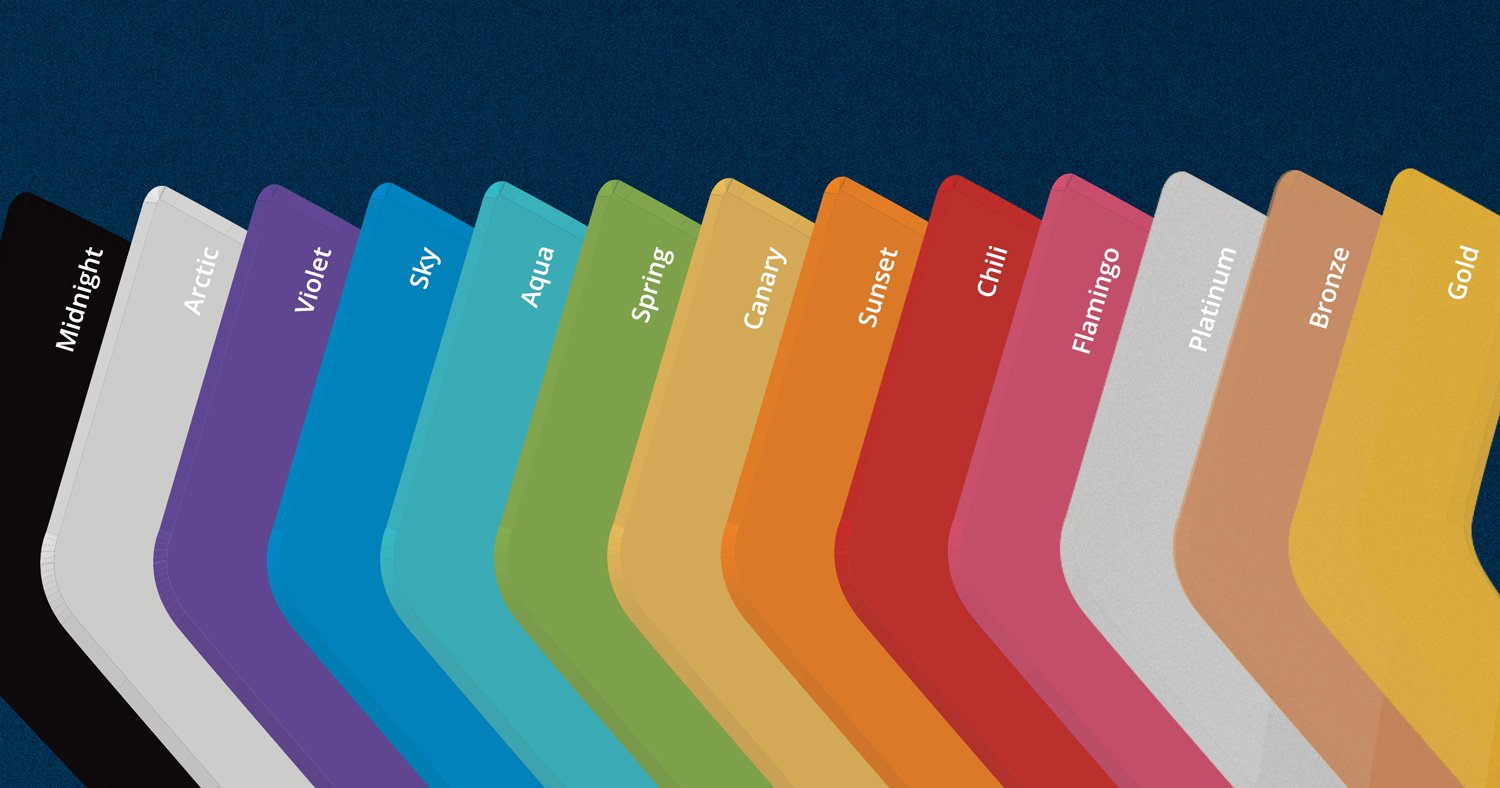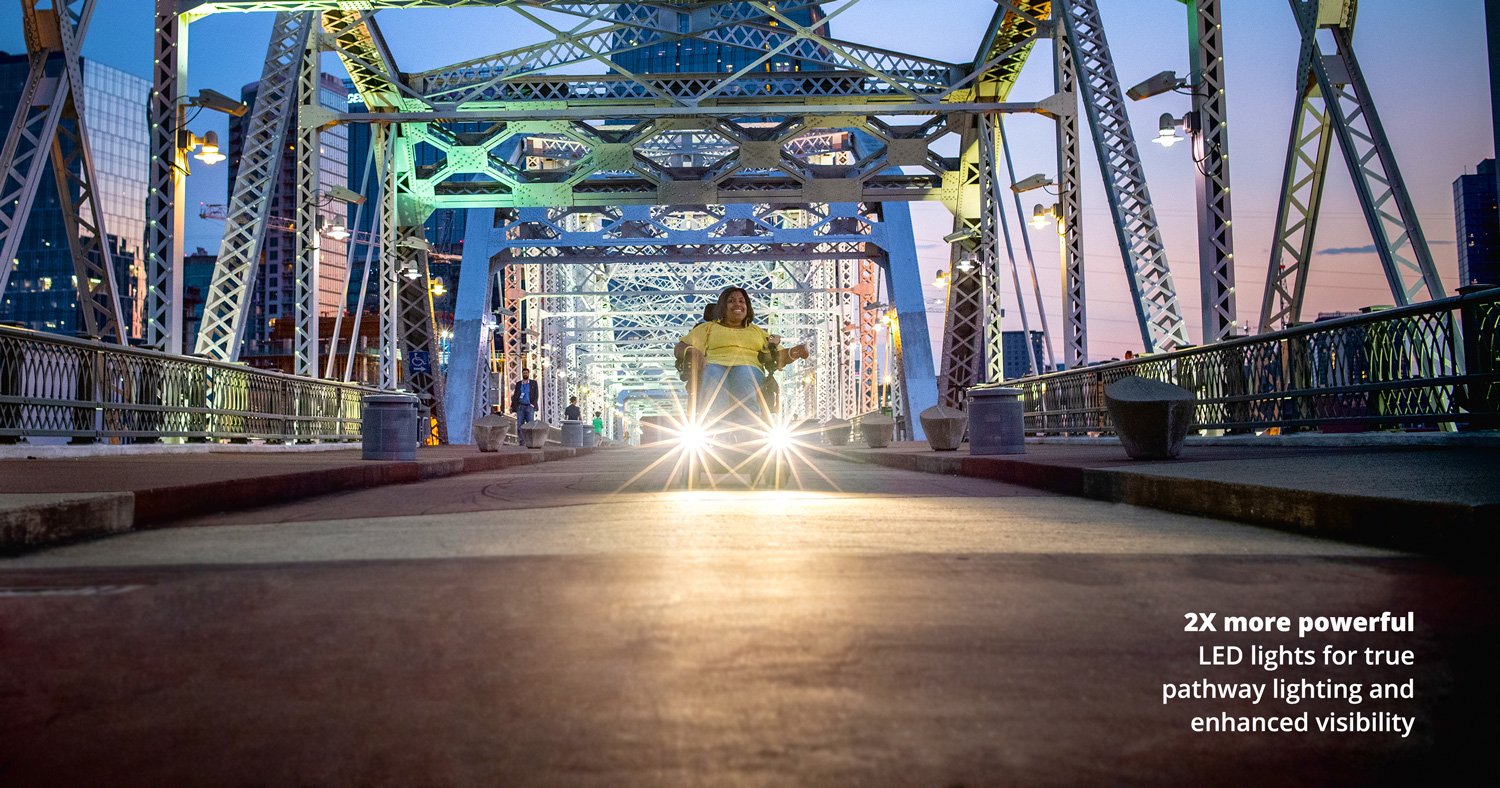 There's a lot to like about the 2021 M-Series! The new M5 Corpus is very quiet and has a smooth ride. The suspension makes small obstacles unnoticeable, and I'm confident it can take me anywhere I want to go.
- Jerod on the 2021 M5 Corpus
Conquer more
FlexLink and FlexLink Pro suspension balances stability, traction and ride comfort for optimal performance and advanced vibration reduction. Factory optimised and adjustable suspension adapts to your needs and environment. Experience full suspension at any seat elevation height, seating position, or driving speed.

Reach for more
ActiveHeight and ActiveReach combine seamlessly to give you the ultimate advantage in accessing your environment. Seat elevation with integrated forward tilt creates the most innovative, functional and stable seating solution on the market today.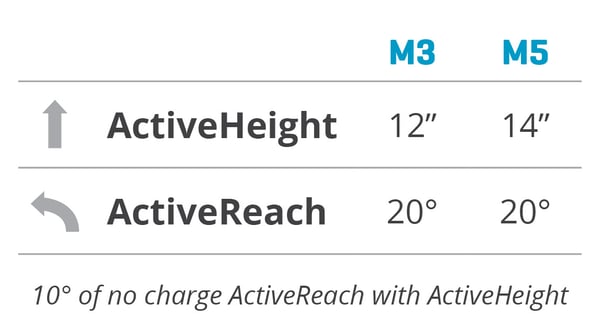 ActiveHeight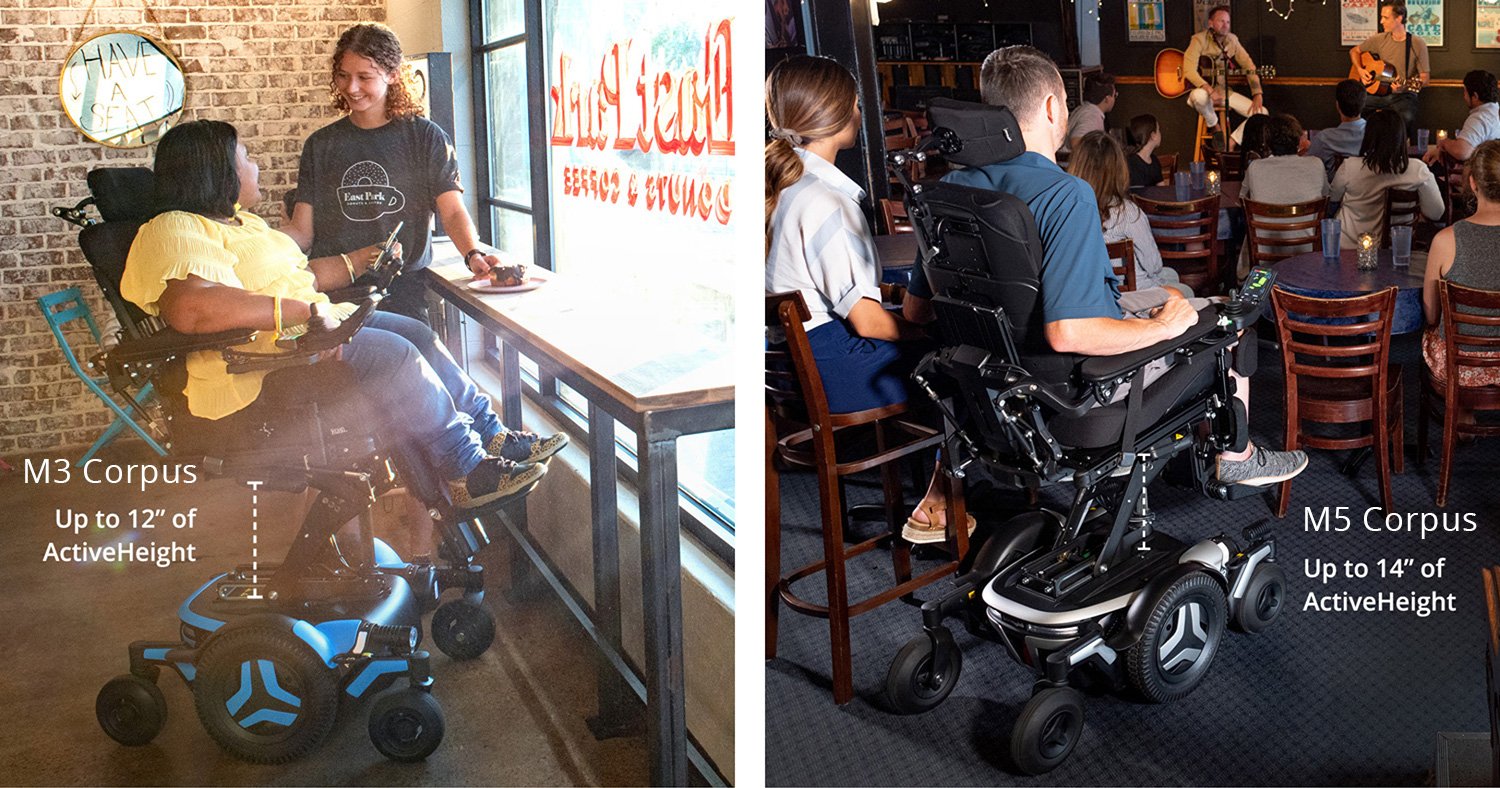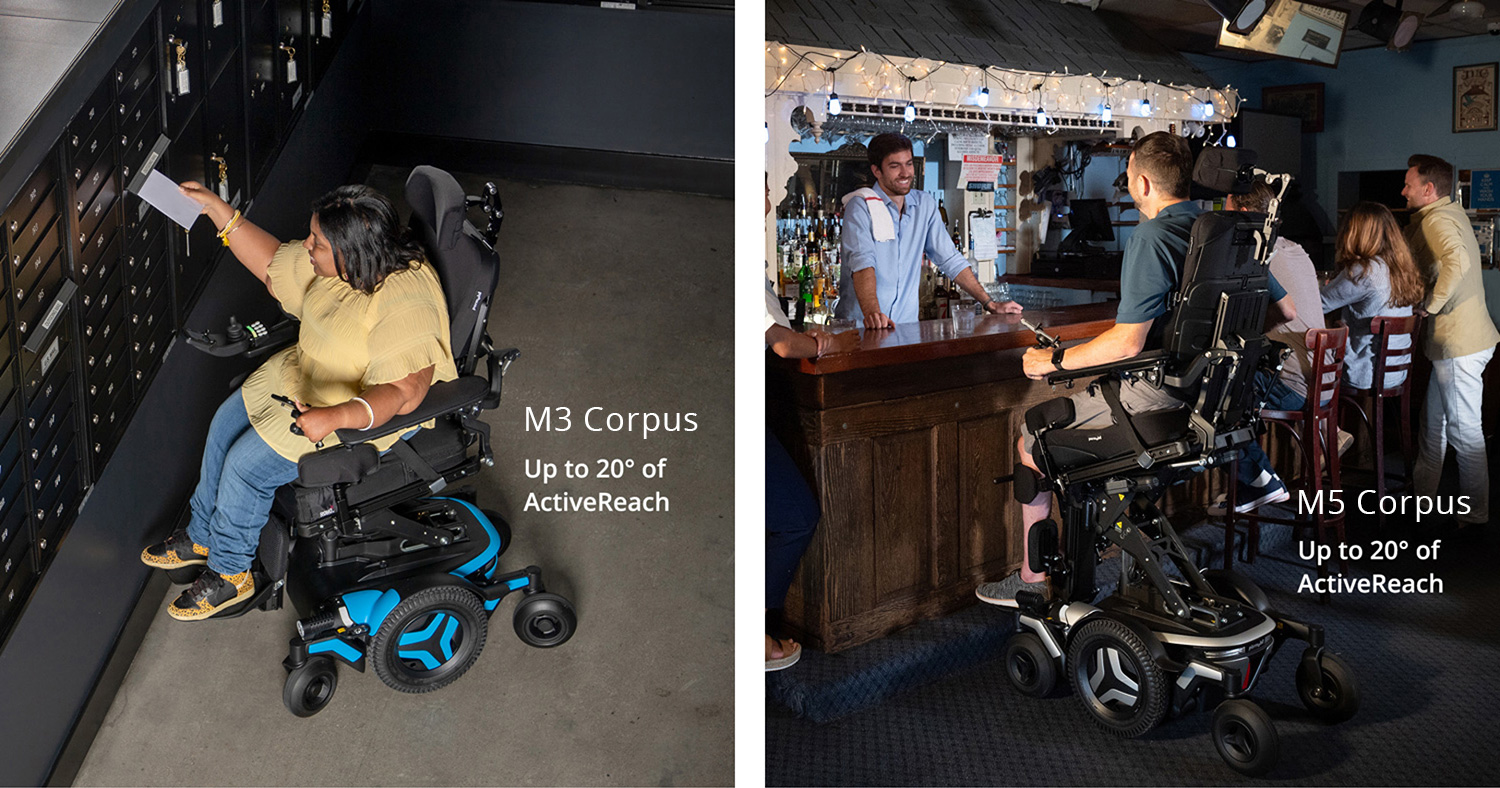 BodiLink on Corpus
Specially designed for the Corpus seating system, BodiLink accessories are best-in-class hardware. They offer true anatomical support with the highest level of adjustability and comfort to meet your individual positioning needs.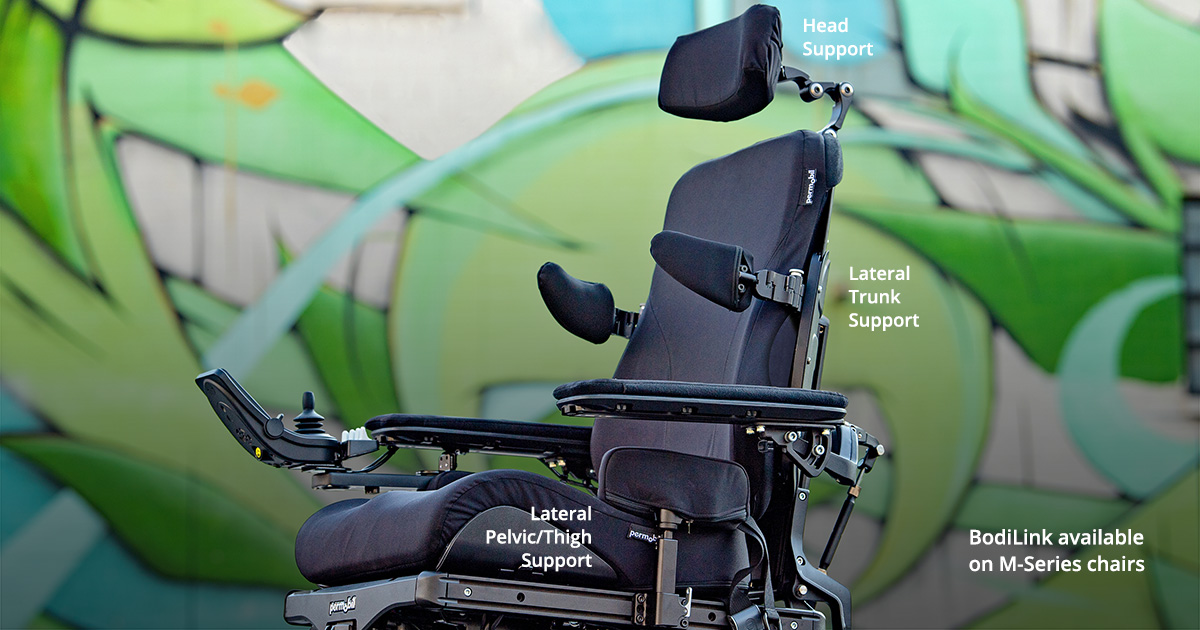 Lateral Trunk Support: Designed for enhanced comfort and trunk alignment with unique wrist joint rotation adjustability allowing pad to match body contours
Head Support: Easy to adjust piano hinge and double-taper joints for maximum strength
Lateral Pelvic/Thigh Support: Easily position along the UniTrack rail with 360° pad adjustment and user-friendly quick release lever
I absolutely love the ActiveReach feature on the chair! It is a total game-changer for the disabled community. It gives me a new level of independence that I have always dreamed of. The chair also rides super smooth.
- Ricole on the 2021 M3 Corpus
M-Series Power Wheelchairs
M3 Corpus
Meticulously engineered to help you maintain better positioning, feel more secure and reduce driving fatigue so you can conquer daily activities with ease. Its compact base offers maneuverability in tight spaces without sacrificing performance. Featuring the innovative FlexLink suspension geometry with independent caster swing-arms helping to keep you stable and in control as you traverse the obstacles in your world.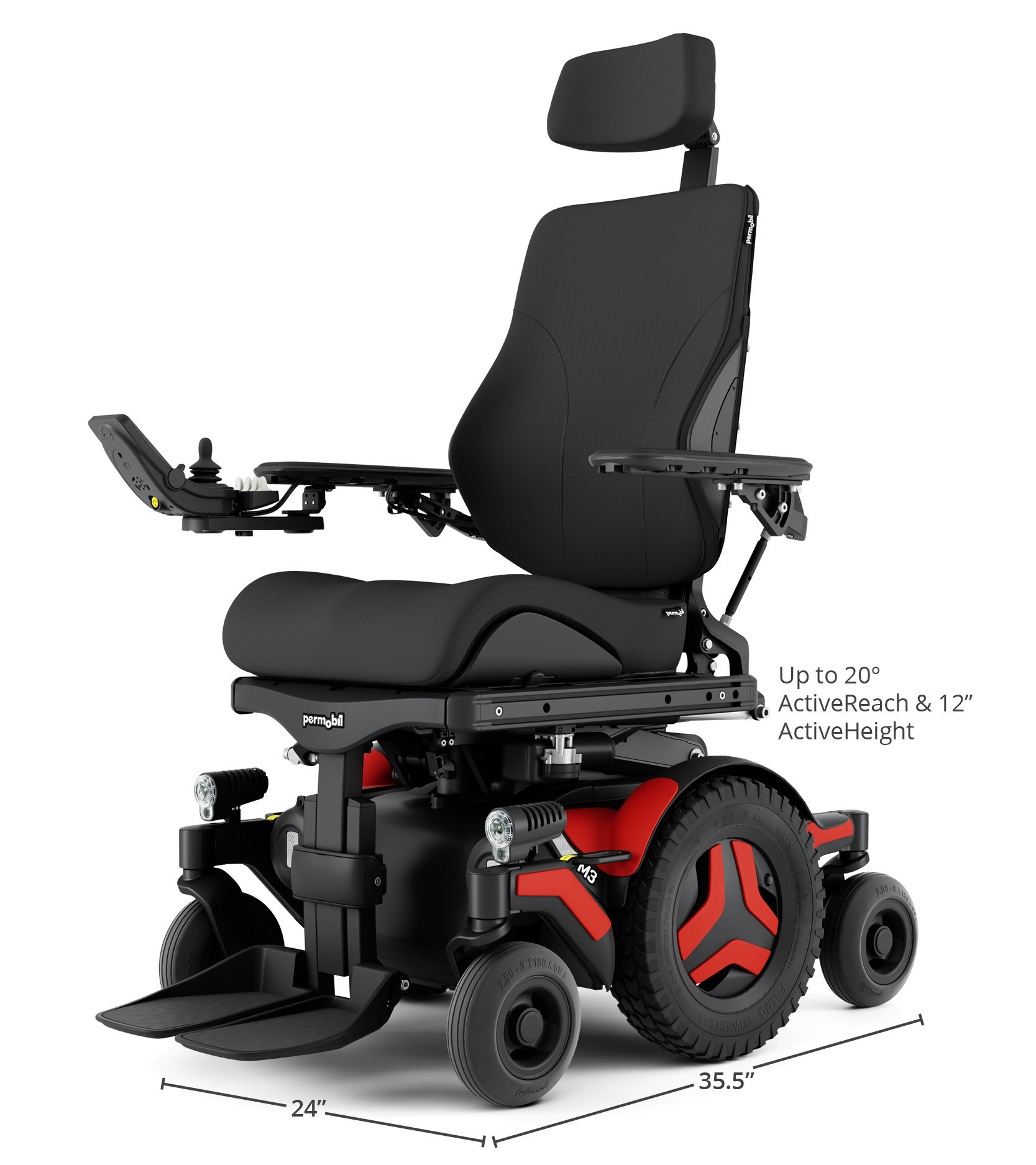 M5 Corpus
Take control with high-performance motors enabling a top speed of 10km/hr and exceptional low-end torque that lets you pivot like a pro. Experience unsurpassed stability and ride comfort with FlexLink Pro independent drive wheel suspension. The M5 Corpus will take you to new heights with increased stability and full suspension even in 14" of seat elevation.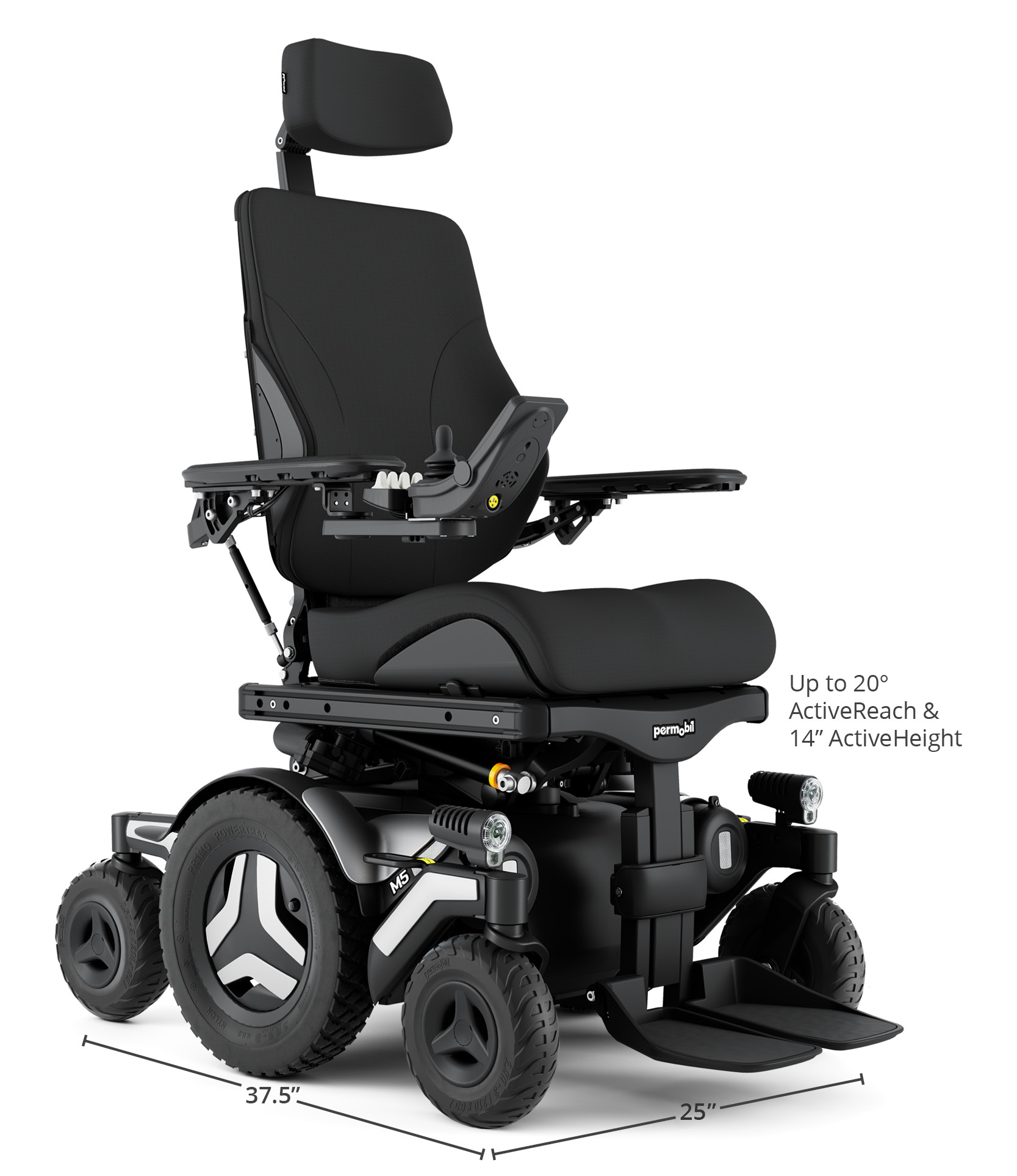 ---
For more information contact our team at 1300 845 483 or find a provider / retailer near you.
All contents © copyright 2021 Permobil. All rights reserved.
Brochure| FAQs |Colour Chart | MyPermobil App
Actual driving range will vary based on driving and battery conditions. Specifications may vary based upon configuration.
Please refer to your owners manual (M3 Corpus or M5 Corpus) for warnings and instructions for the safe operation of your wheelchair in a variety of driving conditions.